Trentino's Wines Red and White but Overall Green
From the mountains to the vine
A journey though Trentino Dolomites' vineyards
Trentino's Wines Consortium
A reality which talks about the union and growth of the region
Trentino Wine Region of the Year 2020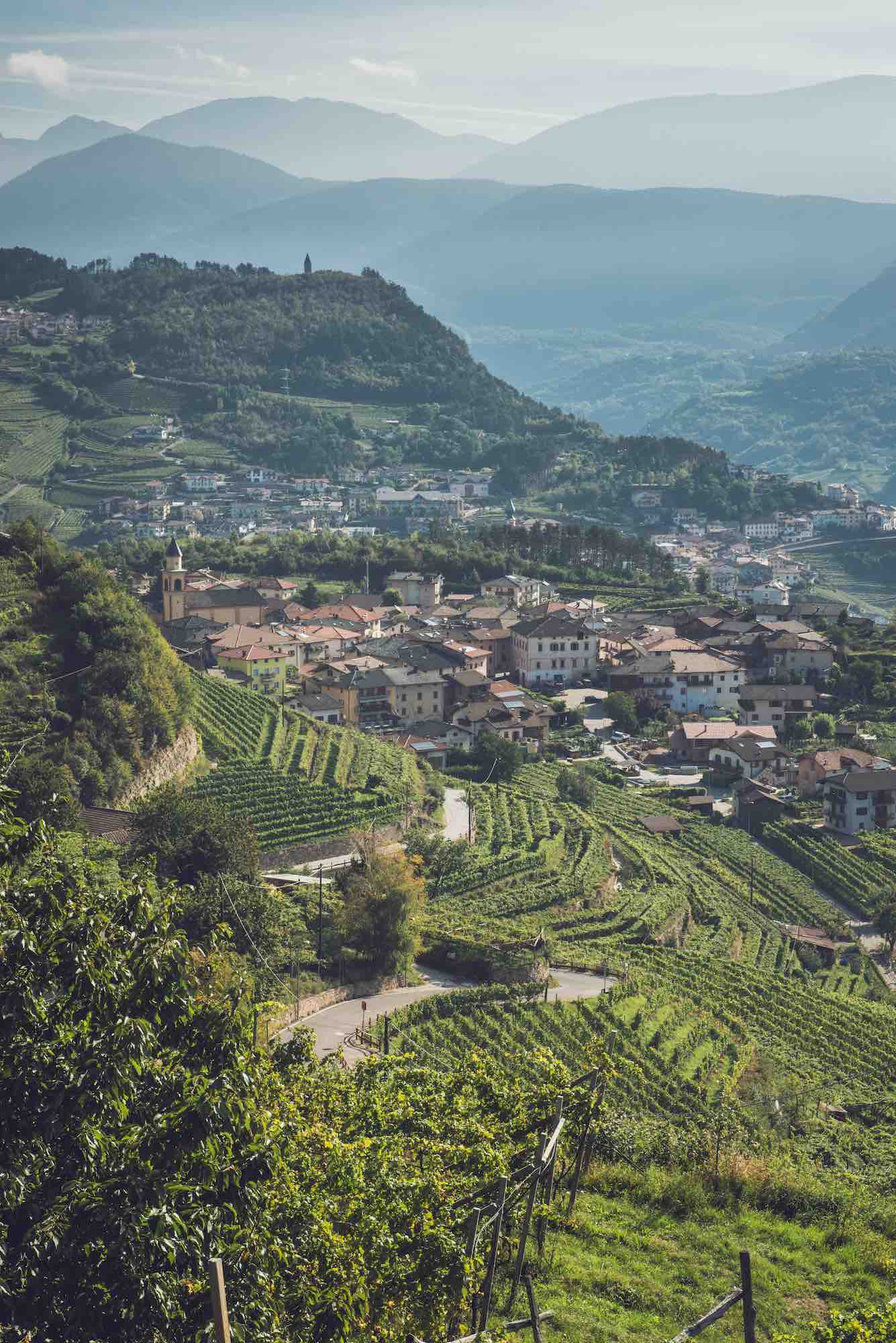 THE DISTINCTIVE CHARACTERISTICS
OF AN ALPINE ENVIRONMENT
REGION
From Lake Garda to the terraces of the Cembra Valley, the vine has the distinctive character of the Trentino landscape.
CLIMATE
The complex morphology of Trentino's landscape, the Dolomites, and the numerous lakes generate in a limited area many different micro-climatic-environments.
PRODUCERS
Large cooperatives, where the concept "unity is strength" is rooted in a productive environment and in the history of the Trentino region. Small winemakers who with effort and passion enhance the winemaking identity of our region.
NAMES
5 DOC designation of control origin (Trentino, Trento, Teroldego Rotaliano, Valdadige and Casteller) and 2 IGT geographical area (Vigneti delle Dolomiti and Vallagarina) to protect the identity of an area and the typicality and peculiarity of the wine produced.
VARIETÀ
Uve di varietà internazionali affiancate da vitigni autoctoni come Nosiola, Marzemino e Teroldego Rotaliano.
DENOMINAZIONI
5 D.O.C. denominazioni di origine controllata (Trentino, Trento, Teroldego Rotaliano, Valdadige e Casteller) e 2 I.G.T. indicazione geografica territoriale (Vigneti delle Dolomiti e Vallagarina) a tutelare l'identità di un territorio e della tipicità e peculiarità del vino prodotto.
Wines that tell stories of a life
The vineyard areas in Trentino amounts to more than 10,000 hectares, made up of 74% white grapes and 26% black grapes. Despite a limited area, in Trentino there are cultivated a total of 63 vines. In addition to the native vines Nosiola, Teroldego and Marzemino, different soils and weather conditions make Trentino's land favorable to numerous other international grape varieties that are creating exceptional, precious, inimitable wines.
NOSIOLA
humble but only in appearance
TEROLDEGO
the prince of red wines
PASSION, CARE, ATTENTION FROM THE VINEYARD TO THE CELLAR
Trentino's wine system has always intertwined winemakers' cooperation and individuality, and activism of the wineries with their dedication. All of these were applied in the vineyard by lovers of organic and biodynamic productions.
Where can we meet producers and winemakers?
IN THE VINEYARD
There are many opportunities to meet winemakers where it all starts: in the vineyard. Every year a rich calendar of events allows enthusiasts and wine lovers to get to know Trentino's winemakers
IN CELLARS
Do not miss the opportunity to discover the Trentino's wines through a visit to the numerous wineries in our area, a unique opportunity to taste the wines and buy the bottles directly from the producer.
AT PALAZZO ROCCABRUNA
You can participate in sommelier-assisted wine tastings and Trentino's agri-food excellence in the splendid setting of the sixteenth-century Palazzo Roccabruna, the Provincial Enoteca of Trentino
Trentino's Wines:
The Union of Passion and Nature
VINI DEL TRENTINO: unione di passione e natura
The World of Trentino's Wines
EVENTS • REVIEWS • MENTIONS
AUTUMNUS - I FRUTTI DELLA TERRA
Oltre 100 eccellenze dell'enogastronomia e della filiera agroalimentare trentina vi accompagneranno attraverso un viaggio di sapori e profumi tra le vie, i palazzi e le piazze del centro storico di Trento. Degustazioni, approfondimenti, laboratori e show cooking in tre giornate ricche di eventi per un'esperienza all'insegna del gusto e della qualità.
dal 24 al 26 settembre 2021
TRENTINO WINE REGION OF THE YEAR 2020
È del Trentino il titolo di Wine Region of the Year 2020. Wine Enthusiast, autorevole magazine newyorkese tra i più importanti al mondo per il tema del vino, riconosce questo premio internazionale ad un territorio qualitativamente dinamico ed eterogeneo, considerato ineguagliabile per la sua diversità.
TRENTINO &WINE - LA MOSTRA DEI VINI DEL TRENTINO
Trentino&Wine: un affascinante percorso fra arte, sapori e solidarietà alla scoperta dei mille volti del vino trentino. Ricco il calendario degli appuntamenti: degustazioni e possibilità di approfondimento con incontri specifici, i piatti degli chef trentini da abbinare ai vini del territorio e molte altre iniziative. L'edizione 2020 è stata annullata, ci rivediamo nel 2021